The NOVENCO® axial flow fans are designed for diverse applications within land, marine and offshore ventilation systems. Application areas include comfort ventilation systems, industrial ventilation, air handling units, process ventilation, agricultural ventilation, data centre cooling, car parks, tunnels etc.
The NOVENCO ZerAx® fans are the latest addition to the NOVENCO range of axial flow ventilators and are based on the, still in production, NOVENCO NovAx fans.
The ZerAx axial flow fan improves upon the design and performance of the NovAx in almost every aspect and sets new standards with unrivalled fan efficiencies and short return-on-investments. The ZerAx design reflects efficiency in every detail and lends from the aviation industry.

The time-honoured NovAx fans have been in production since the 1980s. The fan performance still ranks among the best in the industry and have only recently been almost matched by market alternatives.

Both the NovAx and ZerAx axial flow fans are for optimal operation with variable speed-controlled frequency converters (VSDs). The axial flow fans are available in versions for duct installation, with free inlets, for integration in air handling units (AHUs), for heavy-duty, for hot smoke or for demanding marine use.

The highly efficient and energy-saving NOVENCO ZerAx axial fans can contribute significantly and positively to the certification of sustainable buildings in certification programmes such as DGNB and LEED.

All NOVENCO axial flow fans are available for a wide range of temperature conditions and zones such as comfort, hot smoke and the demanding ATEX, EX and marine environments. Operation in high temperature zones for periods up to two hours is possible with the hot smoke tested and approved F200, F300 and F400 axial fans. The hot smoke fans allow for design of versatile, compact and efficient ventilation systems capable of emergency heat extraction, without sacrificing the benefits of normal economical ventilation in places such as buildings, car parks and tunnels.

Part of both the NovAx and ZerAx fan ranges are available as Standard Range fans, i.e. as pre-defined fan configurations.

The range of axial fan sizes and capacities cover low to medium pressure systems for ventilation as well as for removal and transport of air within practically all environments.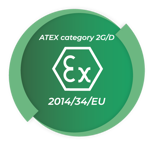 See also: Our Car Park Fans