Clear Choice pressurization and car park ventilation for new residential tower Sluisbuurt Amsterdam
Due to the rapid growth of Amsterdam, many extra residential units will be needed in the coming years. That is why the sustainable, green new-build district of Sluisbuurt is being realised on the Zeeburgereiland. Its location on the waterside and close proximity to the city centre make it a truly unique location. A total of 5,500 residential units in a mix of low and high-rise buildings will be developed over the next 10-15 years.
Construction of the first residential tower is expected to start late 2021. The construction team with developing contractor J.P. van Eesteren will realise 289 energy-efficient apartments. The 100-metre high-rise building offers space for 224 sustainable apartments, spread over 33 floors. A parking garage will be built under the adjacent low-rise building with 65 flats.
Within the construction team, NOVENCO Building & Industry will realise the pressurization systems in the high-rise tower and the car park ventilation underneath the low-rise building. In the 33-storey high-rise tower, the pressurisation systems will provide safe, smoke-free escape routes in the event of a fire. In the construction team, NOVENCO is involved in the project from initial design to system certification and handover.
Construction is expected to start in late 2021. Completion of the tower is planned for mid-2024.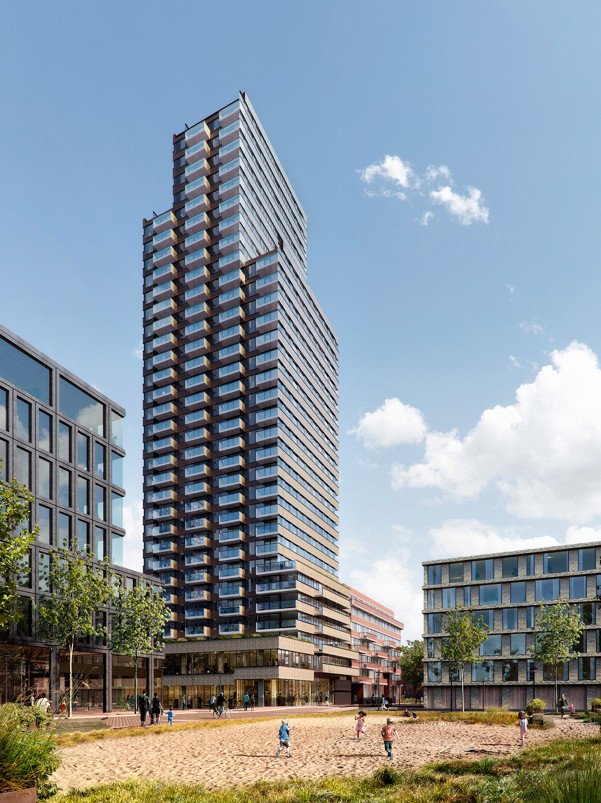 Image: Absent Matter 2021