Apprenticeship place 2018
The EUC Zealand has again this year received many nominations from apprentices, who believe that their companies of internship deserve the title as Apprenticeship place 2018. We are happy to announce, that our apprentice Michael Bahr Jakobsen has nominated NOVENCO for this honourable title, which was awarded for the first time in 1999.
A small EUC Zealand judging panel - consisting of the chairman of the school, an education manager an administrative employee - has selected NOVENCO Building & Industry A/S as EUC Zealand's local winner. In this context, NOVENCO's delegation (Klaus V. Rasmussen, Brian Brix Petersen and Michael Bahr Jakobsen) were invited to lunch to mark the occasion.
NOVENCO is thus qualified for the national competition as Apprenticeship place of the year. The winner will be announced on Thursday 15th November 2018 in Copenhagen.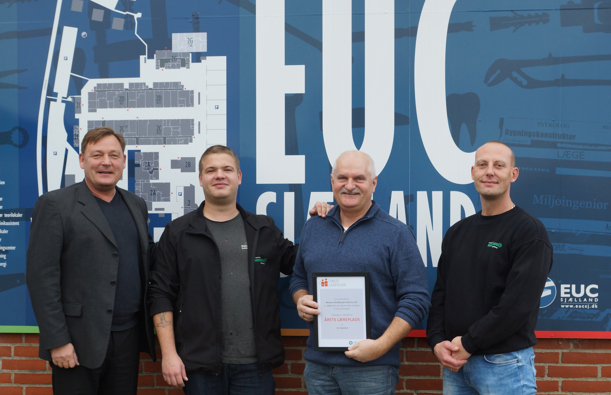 from the left: John Norman, Director EUC Sjælland, apprentice Michael Jakobsen, Klaus Rasmussen and Brian Brix